Stephen Dhamarraṉdji from Galiwin'ku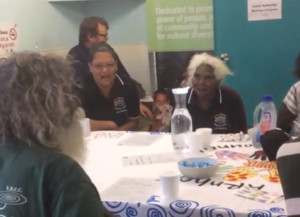 Responding to an episode where Geoffrey Dhalŋanda arrived at the beginning of the L.A. meeting and asked to speak to the members about an issue of overcrowding in his house, Stephen Dhamarraṉdji (Yalu' researcher) commented:
"That old man came to the L.A. meeting to talk about his house, because most of the L.A. members are also the HRG members. That is why he was there"
Stephen is drawing attention to the manner in which some of the distinctions between government bodies and their particular accountabilities can seem to disappear on the ground. It can seem strange that an issue may be raised in one forum, but not in another, when the members of the differing meetings are very similar, and where community issues like housing are seen to be relevant in many different forums.